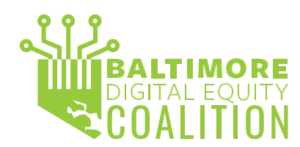 BDEC TECH SUPPORT HOTLINE IS LIVE!
The Baltimore Digital Equity Coalition (BDEC) is working to close the digital divide in Baltimore City. In addition to working on initiatives to provide devices and connectivity to underserved residents, they are also providing technical support for residents who are new to getting online. This support is free.
The BDEC Tech Support Hotline is LIVE! Hours of operation are Monday through Friday, 10:00 am - 6:00 pm. The hotline is currently only available to adult learners (and staff) of Baltimore City-based workforce training and adult education programs.
Adult Learners, call the FREE Tech Support Hotline at: 410-834-4214
Adult learners, simply dial the number above and you will be directed to a technician to help troubleshoot computer-related issues you may be experiencing, including:
technology selection
WiFi connectivity
Comcast Internet Essentials
miscellaneous troubleshooting
video chat apps (ex. Zoom)
e-learning platforms
general navigation
privacy and security
instructor coaching
technology sourcing
QUESTIONS?
Please don't hesitate to reach out to BDEC's Help Desk Coordinator, Jade at [email protected], with any questions.