Imagine
Imagine Baltimore with everyone involved in Science, Technology, Engineering, and Math (STEM) working together to educate our young people. Imagine the economic opportunities for Baltimore if all students were equipped to join the STEM workforce.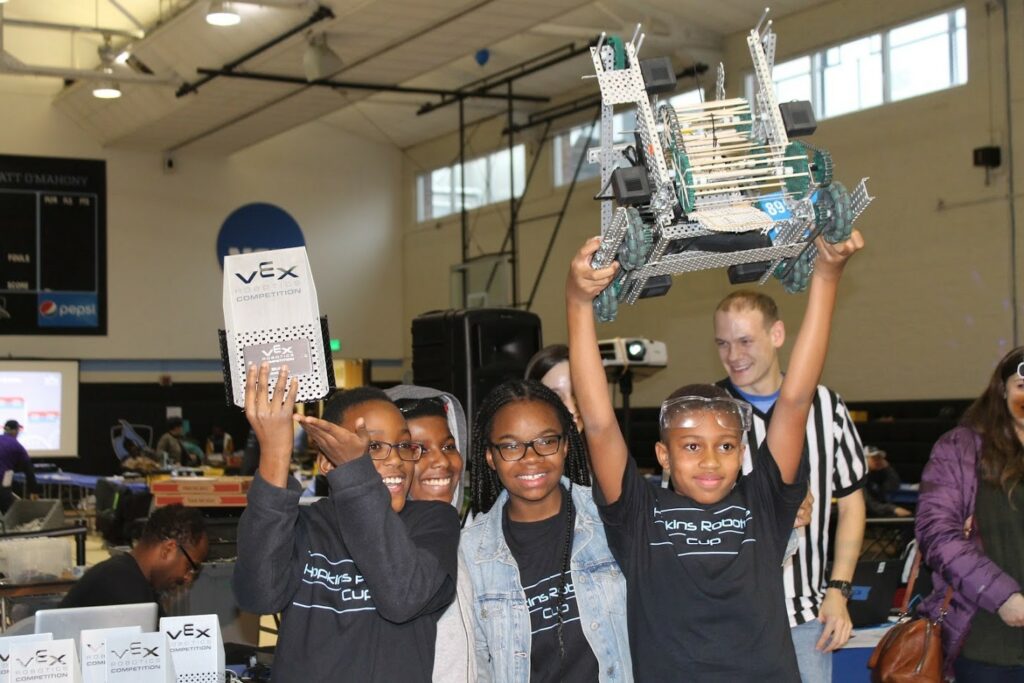 What is BmoreSTEM?
BmoreSTEM is a collection of organizations and individuals committed to developing science, technology, engineering, and math (STEM) related opportunities in Baltimore.
The collective impact of stakeholders is magnified through dialogue, collaboration and coordination of STEM educational outreach efforts to more efficiently, effectively, and equitably serve Baltimore.
Supporting the development of an inquisitive and technically literate population will enable a robust 21st century economy to grow in Baltimore.
STEM-literate students will be better prepared as informed citizens regardless of the career trajectory pursued.
Enhancing support for underrepresented populations will improve diversity.
What is STEM?
STEM consists of science, technology, engineering, and mathematics as individual disciplines and as the integration of these disciplines.
What is Science? It's a system of studying, testing, and experimenting on things in nature. Potential careers are to include; Biologist, Astronomer, Physicist, Chemist, Geologist, and Forensics.
What is Technology? It's the inventions and methods of solving problems that are produced through research and practical application. Potential careers are to include; Computer Programmer, System Analyst, Technician, Computer Game Designer, and Robotics.
What is Engineering? It's the study and use of concepts of science and mathematics to create technology that solves problems. Potential careers are to include; Aerospace Engineering, Biomedical Engineering, Electrical Engineering, Petroleum Engineering, and Software Engineering.
What is Mathematics? It's the study of pattern and relationships between quantities, numbers and shapes. Potential careers are to include; Mathematician, Statistician, Cyber security Analyst, Estimator, and College Professor.
STEM literate graduates (regardless of whether they pursue a STEM trajectory) will be better prepared to fully participate in our increasingly technological world.
Where are we now?
BmoreSTEM 1.0 launched on February 19, 2019 with remarks by Dr. Santelises from City Schools and Delali Dzirasa from Fearless. Work is underway for:
Providing more curriculum-embedded STEM experiences
Mentoring middle school youth on robotics teams
Recruiting secondary STEM teachers
Growing a sustainable STEM Learning Ecosystem
Nearly a quarter of all jobs in the Baltimore region
More than 281,000 jobs altogether
Require high-level STEM knowledge in at least one STEM field
Potential lifetime earnings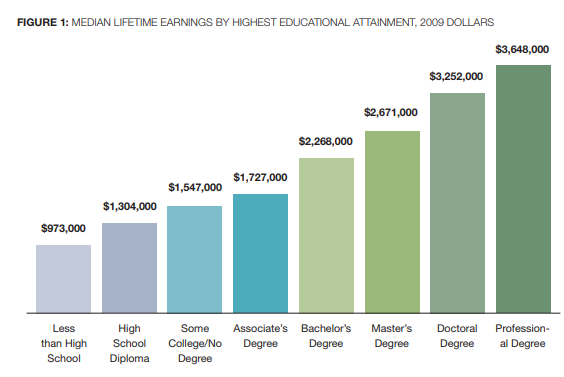 Trend Exists with Middle-skill Jobs Too!
Middle-skill STEM jobs represent a significant opportunity for the thousands of unemployed and underemployed people who seek to move into a career that provides a family-supporting wage. In 2011, workers in middle-skill STEM occupations earned 61% more than workers in non-STEM occupations with similar levels of education.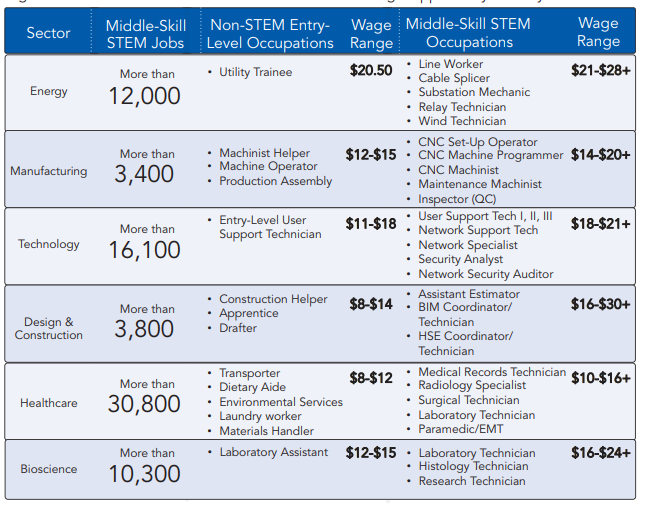 STEM Workers
STEM workers tend to earn more than similarly educated non-STEM workers. In fact, Blacks and Hispanics are underrepresented within STEM jobs. As well, women have made significant gains in life and physical sciences, but in other areas their shares have been stable and in computer jobs it has declined. STEM is more than just about money! What's your North star?